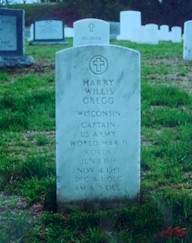 Lt. Harry Gregg
1916 - 1961
Bombardier,
567th BS / 389th BG
Rank:
* Commissioned 2nd Lieutenant, December 11th 1942.
* Promoted to 1st Lieutenant, December 1st 1943.
Harry Gregg's Combat & Service Awards
---
My grandfather, Harry Gregg, was a bombardier in the 389th Bomb Group from June 25, 1943 until January 14, 1944. This site is dedicated to my grandfather, and the veterans of the 389th BG during WWII. During his time with the 389th, my grandfather flew 25 combat missions, which ranged in extremes from flights at 25,000' with temperatures at -60 degrees (F) to a flight over a burning oil refinery at 200' on a hot summer afternoon. This site is meant to help preserve the history of this group of men, and their experiences from 56+ years ago.
---
Harry Gregg's Mission List
(July 12, 1943 -- January 14, 1944)
---
| | | | | | | |
| --- | --- | --- | --- | --- | --- | --- |
| Date | Base | A/C | Pilot | Target | Type | Notes |
| Sunday, July 11, 1943 | Bengasi | 807 U- | Spurrier | Reggio, Italy | Airfield | |
| Monday, July 12, 1943 | Bengasi | 807 U- | Spurrier | Reggio, Italy | Airfield | |
| Wednesday, July 14, 1943 | Bengasi | 807 U- | Spurrier | Messina, Sicily | Railyard | |
| Friday, July 16, 1943 | Bengasi | 807 U- | Spurrier | Bari, Italy | Airfield | |
| Monday, July 19, 1943 | Bengasi | 807 U- | Spurrier | Rome, Italy | Railyard | |
| Sunday, August 01, 1943 | Bengasi | 807 U- | Spurrier | Ploesti, Romania | Oil | Black Sunday |
| Friday, August 13, 1943 | Bengasi | 807 U- | Spurrier | Wiener-Neustadt, Austria | Aircraft Factory | |
| Monday, August 16, 1943 | Bengasi | 807 U- | Spurrier | Foggia, Italy | Airfield | |
| Tuesday, September 07, 1943 | Hethel | 807 U- | Spurrier | Convoy off Texel | Convoy | |
| Thursday, September 09, 1943 | Hethel | 807 U- | Spurrier | St. Omer, France | Airfield | Aborted due to leak in O2 regulator. No sortie credit. |
| Wednesday, September 15, 1943 | Hethel | 807 U- | Spurrier | St. Andre, France | Airfield | |
| Tuesday, September 21, 1943 | Tunisia | 807 U- | Spurrier | Bastia/Leghorn, Corsica | Port | 807 U- suffered flak damage in the nose and an engine. |
| Friday, September 24, 1943 | Tunisia | 807 U- | Spurrier | Pisa, Italy | Airfield | Aborted due to oil leak in #4 engine. No sortie credit. |
| Saturday, September 25, 1943 | Tunisia | 807 U- | Spurrier | Pisa, Italy | Airfield | Aborted due to oil leak in #4 engine. No sortie credit. |
| Friday, October 01, 1943 | Tunisia | 733 V- | Spurrier | Wiener-Neustadt, Austria | Aircraft Factory | Two flak holes in the wings. |
| Friday, October 08, 1943 | Hethel | 963 X- | Spurrier | Vegesack, Germany | U-Boat | |
| Wednesday, December 01, 1943 | Hethel | 807 U- | Spurrier | Solingen, Germany | Industrial | 807 U- received one flak hole. |
| Sunday, December 05, 1943 | Hethel | 807 U- | Spurrier | Cognac/St. Nazaire, France | Port | 10/10 cloud undercast. 807 U- returns to base with bombs. |
| Saturday, December 11, 1943 | Hethel | 807 U- | Spurrier | Emden, Germany | Industrial | Heavy flak! 807 U- has 40-50 flak holes. Tail gunner Neff wounded. |
| Monday, December 13, 1943 | Hethel | 743 O- | Spurrier | Kiel, Germany | Port | |
| Wednesday, December 22, 1943 | Hethel | 747 S- | Spurrier | Osnabruck, Germany | Communications | |
| Friday, December 24, 1943 | Hethel | 807 U- | Spurrier | Pas de Calais, France | NO BALL | |
| Thursday, December 30, 1943 | Hethel | 807 U- | Spurrier | Ludwigshafen, Germany | Port | |
| Friday, December 31, 1943 | Hethel | 807 U- | Spurrier | St. Jean D'Angeley | Airfield | |
| Tuesday, January 04, 1944 | Hethel | 807 U- | Spurrier | Kiel, Germany | Port | |
| Wednesday, January 05, 1944 | Hethel | 807 U- | Spurrier | Kiel, Germany | Port | Capt. Spurrier's 25th mission. |
| Tuesday, January 11, 1944 | Hethel | 743 O- | Christensen | Brunswick, Germany | Industrial | |
| Friday, January 14, 1944 | Hethel | 833 Y- | Selvidge | Pas de Calais, France | NO BALL | H. Gregg flies as an observer on his 25th mission. |